Ever since I visited Japan for a wind ensemble competition in 2009, I've been fascinated by Japanese culture and music. It was my first time in Asia, and I felt like I was on another planet altogether. Tokyo is deliciously overwhelming in every way, from it's ultra modern, replaceable architecture to its complex spaghetti bowl transit system and it's fluorescent pop culture.
Underneath all this modern gloss, I discovered ancient gagaku and other Japanese musical traditions. I studied gagaku in depth for my doctoral comprehensive exams, and became fascinated with its instruments, its structure and its incredible longevity. It is a rich musical form, different from all other musics I was familiar with at the time, and from which I continue to draw musical inspiration for my own work.
A few weeks ago I was fortunate enough to attend a concert by Nagata Shachu, a taiko drumming ensemble based here in Toronto. The ensemble performed new compositions written by members of the group in an attempt to enrich this ancient art form, but I found myself drawn more to the traditional music presented, especially that which incorporated complex dance-like gestures into the performance. The last piece on their program, Miyake, was especially rich in both sonic and visual beauty. This was a very inspiring concert.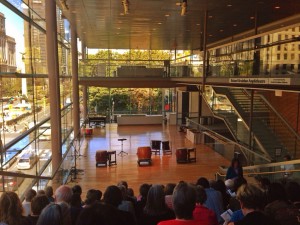 Bagata Shachu's taiko performance setup at the gorgeous Richard Bradshaw Amphitheatre

Batô, a piece of gagaku music.